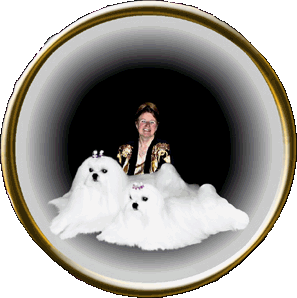 Imported Maltese into New Zealand
I dedicate this page to the wonderful dogs who have contributed to this kennel's success and the people who bred them. Over 30 years of breeding - imports from the USA, England, Australia and now Korea. I will keep adding as I find photographs - some are in black and white - these dogs set the standard for what this kennel is showing and breeding today.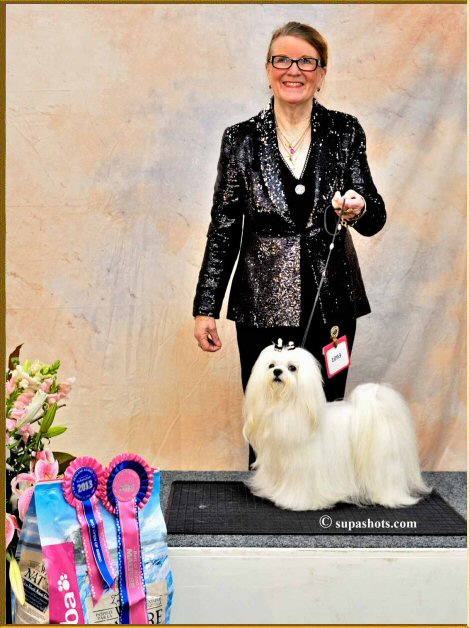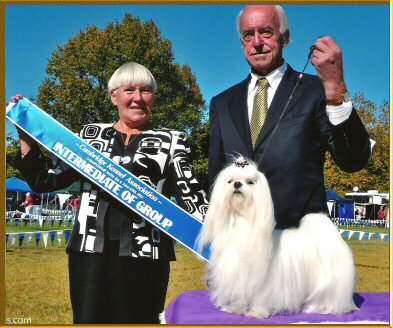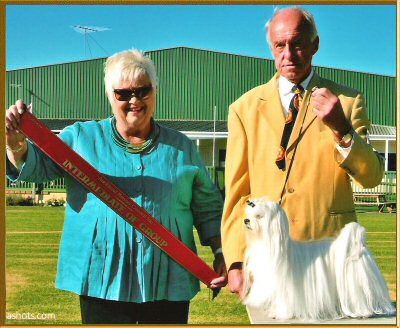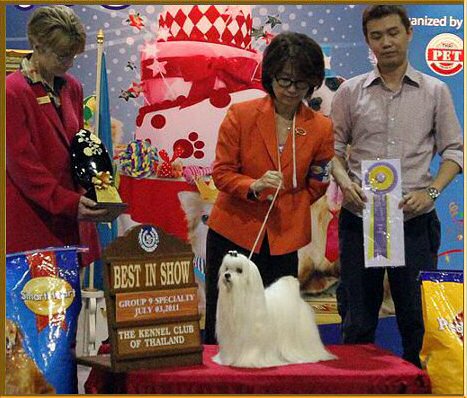 Coming Up


KOR CH/NZ CH. Hiddenvalley Y Coming Up (Imp Korea)
We are thrilled to have this wonderful young dog from Korea in our kennels and to campaign. He was never beaten in the breed to achieve his New Zealand title and has won four Intermediate Of Group awards on the way!
He has also been campaigned in Singapore, winning one Best Of Group, one Reserve Best Of Group and one Runner-Up BIS all breeds.
Results in New Zealand so far:
Feb 2013 Reserve Best Of Group, Judge: Ray Smith (Canada)
Mar 2013 Reserve Best Of Group, Judge: E. Maitland (Australia)
Mar 2013 Best Of Group, Judge: M. Winch (Australia)
Mar 2013 Best In Specialty Show, Judge: Helen Furber (Australia)
Mar 2013 Best Of Group, Judge: Rena Henderson (Australia)
Mar 2013 Best In Specialty Show, Judge: J. Brownlie (Australia)
Mar 2013 Reserve Best Of Group, Judge: J. Scheel (Denmark)
Mar 2013 Best Open In Show, Judge: K. Scheel (Denmark)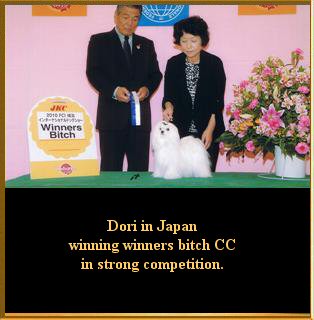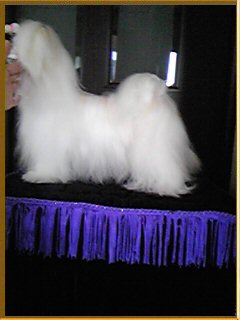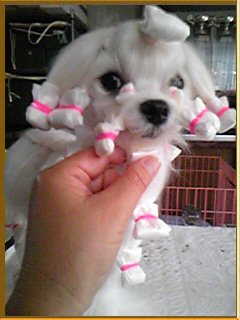 Dori


Jarden Queen Q's Dream FCI (Imp Japan)
Known as Dori, this lovely bitch was sent to us by Mrs Yoko Matsumoto of Hanyushi Japan. She has an impressive pedigree, sired by Int. CH AM & JPN Divine's Gift of friendship, her dam is Jarden Queen Scarlet FCI who in turn was sired by AM/CAN CH Rhaposody's Thrill Seeker.
Thank you Mrs Masumoto.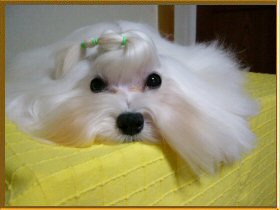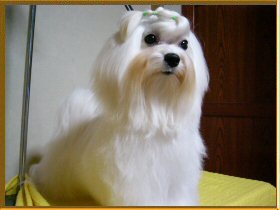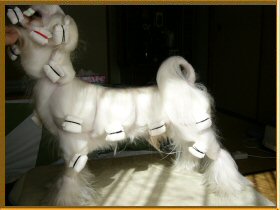 William


NZ CH. Gunma JP Yuki (Imp Japan)
Our thanks go out to Jonie Tani for sending us "William" He is such a sound dog with the best pigmentation I have ever seen and has sired us some great puppies. He started winning Puppy of groups shortly after coming out of quarantine and gained his NZ title with ease.
The sire of William is AM & JPN CH Divine's Gift of Friendship and his dam is Seaside Idel Mammy JP Gena. He is the grandsire of Patrician Plantoescape and great grandsire of Ch Patrician Plan to Rule
who have both achieved major in group awards.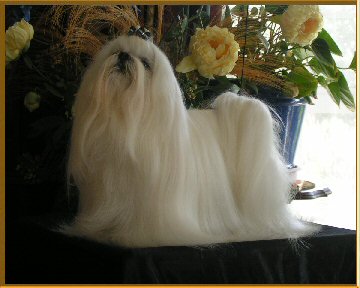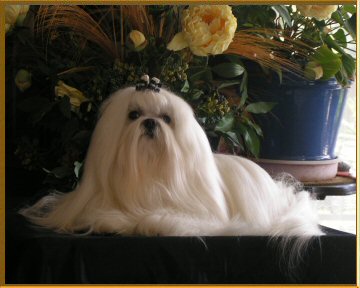 Bayliss


NZ CH. Straightfire Plan to Attend (Imp Sweden)
This small beautiful dog was sent to me by Elizabeth and Axel Axelson from Sweden. He has a fabulous easy-to-care-for coat, gorgeous head, good pigment and free movement. I campaigned him, titling him easily and he won many Best Toy Groups. He has sired true-to-type puppies for me.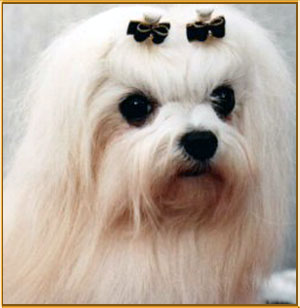 Cruiser


NZ CH. Shaws Stars N Stripes Amee (Imp USA)
Known as "Cruiser", this little guy had a beautifully proprtioned head and structure. He sired so many of my dogs, for example, Aust/NZ CH Patrician Phandango and Aust/NZ CH Patrician Pistachio, as well as many other BIS winners both here and in Australia. Again thank you to Gerda Shaw for letting me have this little guy and also for NZ. CH Shaws LibertyBelle Amee. Cruiser and Bella really helped with the charisma for which my dogs are so well known.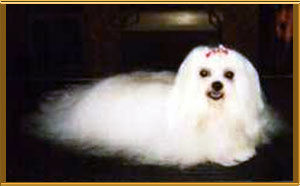 Airies


AM CH.& NZ CH .Arrogance of Amee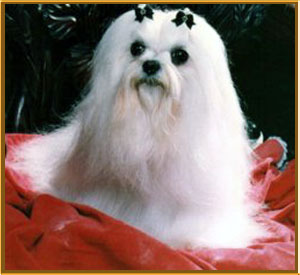 Topper


NZ CH. Shaws Top Hat Amee (Imp USA)


"Topper" was a fantastic little dog I brought in from Gerda Shaw of Philadelphia. I re-grew his coat and he became a champion very quickly and graced the cover of the NZ Kennel Gazette in 1989. He sired some wonderful dogs and also now is the grandsire of their children. He was a great asset to this kennel of Maltese and I thank Gerda from the bottom of my heart for letting me have this great little guy.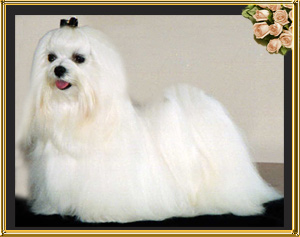 Bennie


AM/CAN CH. Hilite Patrician Showoff (Imp USA)


Bred by Pamela Armstrong. Known as Bennie, this little dog is an absoloute sweetheart with a wonderful temperament which he is passing along to his progeny, along with his fantastic coat pigmentation and good sound movement. Bennie achieved his championship very quickly in New Zealand winning group and in show awards along the way. We are so grateful to Pamela for sending us such a great little dog. Some of his children are now living overseas and have started their show careers with great success.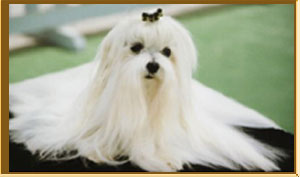 Vinny

NZ CH. Naysmith White Vintage-Look
Vinnie obtained her NZ. Championship very soon after release from quarantine. He is a delightful boy, very elegant, with a lovely coat and personality to match. In the show ring he has won a Reserve Best in Show and many in group awards. We are delighted with the addition of Vinnie to our kennel and very grateful to Bea and Ken Naysmith for sending us such a great little dog.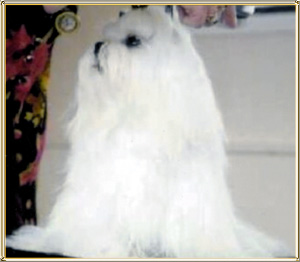 Sweetie


NZ CH. Naysmith Strutin SugarSweet
Sweetie obtained her New Zealand Championship very soon after release from quarantine. She is a very sound bitch - lovely front and rear and excellent pigmentation. Her first litter produced a lovely bitch called BabyDoll - she was mated to AMCH.Aust & NZ GRAND champion Tajon's Knickknack Pattiwack. This mating was so successful that she has now produced another litter. We are so grateful to Beatrice and Ken Naysmith for entrusting us with such a delightful little girl.